Pancha Praharam (Brahmotsavam):
A number of festivals take place in this temple throughout the year The Mandala 'Brahmotsavam', celebrated in the Tamil months of Panguni and Chithirai (March- April), lasts for 40 days and attracts thousands of devotees from surrounding places.
The myth behind this is, once Lord Brahma (the Creator) became very proud on himself as a creator and he fell in love with one of the beautiful girl he has created and because of this he began to lose his powers and people created by him turned vicious and died an early age. Then Brahma realizing his mistake prayed to Shiva to wash out his sin. He came to this "Jambu Vanam" and started to do penance on Lord Siva.

He created a "Theertham" (Spring) and took a dip every day before pooja. His Shiva pooja lasted for One "Mandalam" (40 days). The Theertham created by him is called "Brahma Theertham" (which you can see at the 4th Praharam South Car Street).
Shiva wanted to test him whether he could be distracted again from his duty as a creator. Siva and Parvathi exchanged their dresses and appeared before Brahma. Brahma recognized Siva and prayed to him to forgive his sins and so did Shiva.
That Brahmotsavam is still celebrated in the month of 'Panguni'. On the 37th day of the Brahmotsavam the Pancha-Prakara (5 Praharams) festival is conducted. In this festival Shiva is dressed like a Parvathi and Parvathi as Shiva were taken out in procession in all the five praharams (enclosures) of the temple. This procession lasts for one night and one day. This is the only day Lord Shiva and Devi Parvathi were taken in procession on the 5th praharam.
Aadi Pooram:
"Aadi Pooram" is another sacred festival in this temple. It's a ten days festival. The tenth day will fall on the star "Pooram" which is the star of Annai "Akilandeswari". On all these ten days Akilandeswari will be taken out as procession in the 4th praharam. Each day Akilandeswari will come in different "Vahanams" (like Rishabha, Pushpa Pallakku, Annapakshi, etc.,). Aadi pooram is celebrated for 12 days.
Aadi Velli:
Tamil month "Aadi" is a auspicious and

only

in this month you will come across five Fridays. All these Fridays are very auspicious for Annai Akilandeswari. Hundreds of thousands of devotees will visit and pray to Akilandeswari on those Fridays. You can see non-stop crowd from the dawn to the dusk in the temple.
Aadi Theppam:
Thai Poosam:
Like "Pancha Praharam" another important festival is "Thai Poosam". On the day when the star is "Poosam" in the Tamil month of "Thai" (January – February); The Lord and Devi are taken as a procession to the "Poosa Mandapam" on banks of river "Cooleron" for "Theerthawari" [Cooleron is a river branched from river Cauvery at Mukkombu just few kilometers West of Srirangam-Thiruvanaikoil island and again merges and splits at "Grand anaicut" (Kallannai)]. Thai Poosam is the only day when the Lord and Devi leave away from 5th Praharam.
Vasantha Urchavam:
Vasantha Urchavam (Autumn festival) is celebrated for 10 Days in the month of 'Vaikasi' (May - June). .
Navarathri:
Navarathri is celebrated for 10 days in the month 'Purattasi'.
Thai Theppam:
Theppa Urchavam (Float Festival) is celebrated for 12 days in the month of 'Thai' (January-February).
Panguni Ther (Car Festival):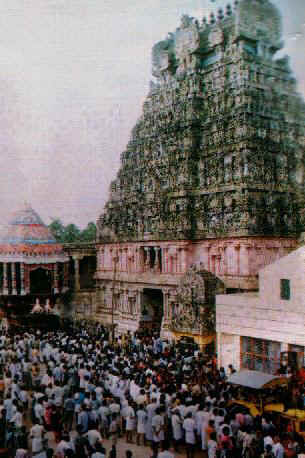 Pidari Amman festival:

'Pidari' Amman Thiruvizha is celebrated for 7 days in the month of 'Maasi' (February-March).